This is the list of the best Law Colleges in the United States of America, North America. Amongst these colleges and universities are the reverred schools such as the Harvard, Yale, Stanford and Columbia. The order in which the colleges are listed on the site are quite representative of their rankings.
The  law schools offering an impressive range of academic and professional courses. So here is the list of Top Law/Colleges.
1.Yale University
Located in New Haven, Connecticut, Yale Law School is one of the world's premier law schools. Among the School's graduates are U.S. Presidents and Supreme Court Justices; and among its far-reaching projects, the Information Society Project and the China Law Center.
Yale Law School offers four degree-granting programs – The J.D. program is a three-year course of study. The LL.M. is a one-year course of study for J.D. graduates interested in law teaching. The J.S.D. program is open to Yale Law School LL.M. graduates. The M.S.L. program is a one-year course of study intended for experts in other fields who want to explore how the law relates to their fields.
2.Harvard University
Harvard Law School offers a diverse and dedicated faculty, an energetic and creative learning environment and a student body that comes from every state in the U.S. and over 70 countries. Every year, around 1900 students attend the law school.
Harvard Law School offers three degree programs: The J.D. is a three-year program that gives students the intellectual foundations for legal study. The one-year LL.M. program provides students who already have excellent legal training and experience, an expanded understanding of law and legal theory. The S.J.D. is still a more advanced degree, intended for students who wish to pursue a career in legal education.
3.Stanford University
At Stanford Law School, the community — engaged faculty and students, influential alumni, dedicated staff — is united in its belief that a Stanford Law degree is a powerful tool for change.


Stanford Law School offers an intensive, dynamic JD program in an environment that is collegial and interdisciplinary, and part of one of the world's leading research universities. Stanford Law School also offers three one-year master's degree programs and a doctoral degree (JSD) for foreign graduate students who have earned a law degree outside the United States.
4.Columbia University
Columbia Law School has always been committed to the pursuit of excellence and its command of academic vitality. Columbia offers a challenging, but also supportive environment where coursework is both substantive in depth and vast in scope.
The Juris Doctor (J.D.) program offered requires three years of study. One academic year, consists of two semesters, extending from mid-August through mid-May. The LL.M. Program is a one-year, full-time program beginning in the fall semester.  It is an opportunity for our students to specialize in fields not fully covered in their previous law work.  Every year the Law School enrolls approximately 210 LL.M. students from more than 50 countries with experience spanning all areas of the legal profession. The J.S.D. degree is awarded to persons who have completed an approved program of study, research and writing with distinction.
5.New York University
Founded in 1835, New York University School of Law has a record of academic excellence and national scholarly influence. One of the first law schools to admit women, it has been long committed to welcoming students of diverse backgrounds, people who had been discriminated against by many other institutions. Located on the University's campus in Greenwich Village, NYU Law has been a pioneer—and continues to be a leader—in programs such as clinical education, public service, interdisciplinary colloquia and global studies.
Students are admitted to the Juris Doctor (J.D.) Program only on a full-time basis and only for the fall semester. Applicants must be at least eighteen years old and hold a baccalaureate degree from a regionally accredited college or university to be eligible to enroll in the Juris Doctor (J.D.) program. The Graduate Division is home to both general and specialized Master of Laws (LL.M.) programs in New York City and in Singapore, the online Executive Master of Laws (E-LL.M.) in Taxation, the Doctor of Juridical Science (J.S.D.), and Advanced Professional Certificates.
6.University of California-Berkeley
Berkeley Law offers a superb education in both established and emerging fields of law. Their intellectual property program was the first of its kind, and remains dominant more than a decade later. Berkeley was the legal pioneer of the green movement, creating the nation's first environmental law program. One of the most selective law schools in the nation, Berkeley Law enrolls about 270 of the more than 7,000 prospective J.D. students who apply annually.
Other than the J.D. and J.S.D. programs offered, Berkeley was also the first law school that offered M.A. and Ph.D. degrees in Jurisprudence and Social Policy. Most recently, the school expanded its LL.M. program to offer two options: one standard nine-month program as well as one six-month curriculum that spans two consecutive summers.
7.University of Chicago
The University of Chicago Law School recently celebrated its 100th anniversary. In the first century, it has evolved from an upstart school with five teachers, seventy-five students, a small set of courses, and no building, into a place that is at the leading edge of legal education, with interdisciplinary approaches, an amazingly productive faculty and a formidable library. The University of Chicago campus is located in the Hyde Park neighborhood, six miles south of downtown Chicago. Hyde Park is centered between two large city parks, Jackson Park and Washington Park, and is just steps from the beaches, trails and parks of Lake Michigan.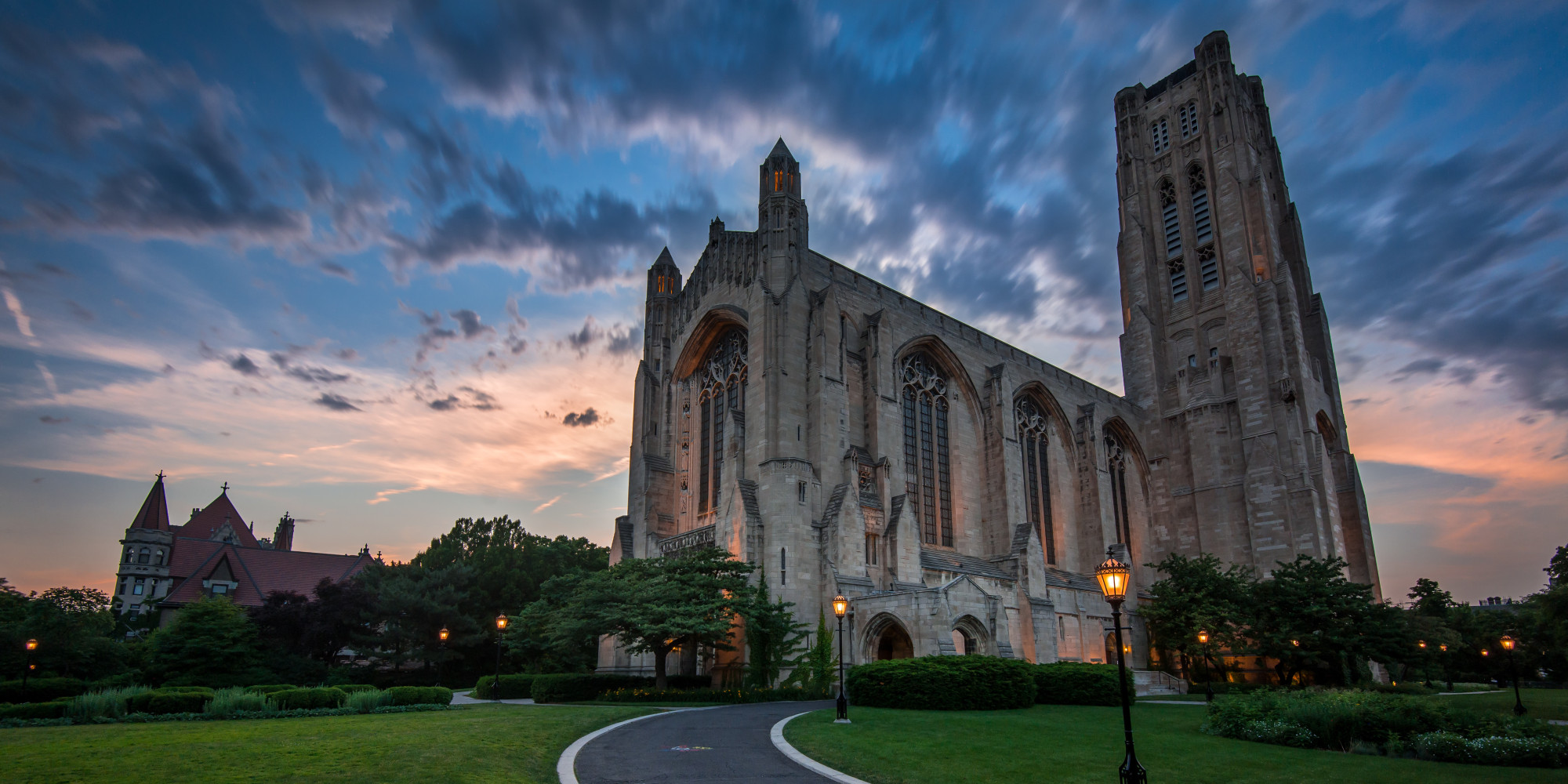 The regular curriculum of the Law School is a three-year program leading to the degree of Doctor of Law (JD). The program is open to candidates who have received a Bachelor's degree from an approved college before beginning their study in the Law School. The entering class for the JD Program is limited to approximately 190 students. The Law School offers two graduate degrees at the masters level: Master of Laws (LL.M.) and Master of Comparative Law (M.Comp.L.). The Law School offers two graduate degrees beyond the masters level: Doctor of Jurisprudence (J.S.D.), and Doctor of Comparative Law (D.Comp.L.).
8.University of Pennsylvania
Penn Law has as distinguished a history as any law school in America. James Wilson, signer of the Declaration of Independence and a Justice of our first Supreme Court, delivered the University's first lectures in law in 1790. He presented his views on topics in law at a series of influential lectures to President George Washington and the members of his cabinet. Following this auspicious beginning, Penn began offering a full-time program in law in 1850, under the leadership of George Sharswood, an innovator in legal education. Since that time, Penn Law has been at the forefront of legal education in the country.
Penn Law has a full-time program leading to the J.D., the first professional degree in Law. Applicants have their undergraduate degrees and, oftentimes, advanced degrees in a broad array of disciplines; many have some work experience prior to attending law school. Graduate Degrees – include the Master of Laws (LL.M.), the Master of Comparative Laws (LL.C.M.), and the Doctor of Juridical Science (S.J.D.). Graduate students generally are international students who hold a law degree from outside the United States and who wish to become more familiar with aspects of American law and legal institutions.
9.Duke University
The Duke University School of Law is the law school and a constituent academic unit of Duke University, Durham, North Carolina, United States. One of Duke's 10 schools and colleges, the School of Law began as the Trinity College School of Law in 1868. In 1924, following the renaming of Trinity College to Duke University, the school was renamed the Duke University School of Law. The School features programs in Business, Comparative and International Law, Environmental Law, and Intellectual Property, among others.
Twenty-five percent of students at Duke pursue a dual degree — that's more than any other top law school in the country. Duke offers the following dual degree programs: JD/LLM in International and Comparative Law, JD/MA and JD/MS, JD/MBA and Accelerated JD/MBA, JD/Master of Environmental Management, JD/Master of Public Policy, JD/Master of Theological Studies, JD/MD, JD/PhD and JD/Master in Global Business Law. The LLM program at Duke Law School is designed to introduce foreign-trained law graduates to the legal system of the United States. The SJD is a doctorate program for students with outstanding academic credentials who intend to pursue an academic career in law.
10.University of Michigan-Ann Arbor
For 150 years, the University of Michigan's Law School has offered its students one of the world's finest legal educations in a setting of stunning physical beauty. Among Michigan Law's 20,000+ alumni can be found leaders in law, business, and public service in countries across the globe. Michigan has externships in South Africa, Geneva, and human rights organizations worldwide.
The Law School offers—in addition to the three year Juris Doctor (J.D.), the basic degree in law in the United States—four graduate degree options: the one year Master of Laws (LL.M.), International Tax LL.M., and Master of Comparative Law (M.C.L.); and the Doctor of the Science of Law (S.J.D.), for which prior completion of the LL.M. is a requirement. While the Law School totals about 1100 students from the U.S. and abroad, the size of the graduate degree programs has been kept small despite the large number of applications received: Each year, the graduate programs consist of approximately 35 – 45 students in the general LL.M., up to ten in the International Tax LL.M., and about ten S.J.D. students in residence.
The practice of law in the United States has a proud history, integral to the founding of the nation and maintaining the rule of law, and many lawyers and law students from around the world want to study or practice law in the United States.
Law School in the US
Studying law in the United States is very different from studying law in many other countries. In various countries, students begin their law studies immediately following graduation from high school or secondary school; most universities in other countries require only a high school diploma or the equivalent in that country to admit students to their law faculties. In the US, however, law is a professional academic field, the equivalent of a graduate degree in other parts of the world.
Law schools in the US are part of public or private universities that grant Juris Doctor (J.D.) degrees. The Juris Doctor program generally lasts three years for full-time students and four years for part-time students. The first year of law school is generally considered to be the most difficult because of the core classes, exams, and the Socrates method. The Socrates method is a method used in most law school classes in which the professor cold calls on students to state a case or respond to a case-based question. This intimidates many students, particularly international students, who might be afraid to speak up in class, but most international students do just fine.
Choosing a Law School
Choosing a law school in the US is an important process. It is important to find a school that suits you. Look at school rankings, but also remember to visit the schools' campuses, if possible. Talk to current students and graduates, and learn as much as you can about the school.
What to Expect When Studying Law
As a first-year (1L) law student in the US, you will most likely take courses in legal writing, contracts, torts, criminal law, and constitutional law, among other courses. As a second-year student (2L) you are likely to focus on other activities such as Law Review, Moot Court, and other extra-curricular activities that offer a lot of practice. Because most 2L students need to start looking for legal internships between their second and third years, it is extremely important that they get as much practical experience as they can during their second year. Many of these internships will lead to full-time employment following graduation.
As a third-year student (3L), you will likely take electives such as international law, immigration law, antitrust law, or intellectual property law. Third-year students generally focus most of their time on finding employment and studying for the bar exam. The bar exam is a test meant to determine whether a candidate is qualified to practice law in their jurisdiction.
Careers in Law
There are many great opportunities available for international students considering careers in law depending on what interests them and what they want to pursue. From criminal law, family law, to environmental law, there are a number of fields that will suit just about anyone looking for a career in justice. This article aims to expose international students to the many opportunities in law to see
Criminal Law
Criminal law is perhaps one of the most popular and well known jobs in the legal field. Criminal law is practiced by prosecutors and defenders. Prosecutors are employed by the state and work to convict potential criminals and serve justice. Defenders, on the other hand, work to get people who have been charged with a crime acquitted. These professions are extremely stressful, but they are the backbone of the legal field. Though the pay is not extremely lucrative, the reward of helping put away a murderer or save an innocent person is worth it to many lawyers. While prosecutors and public defenders are both employed by the state, there is also a private sector to this field of law. Private criminal defense attorneys are often at the top their field, and put many hours into their work. Unlike state attorneys, they are very highly paid and receive some of the top salaries of any attorney.
Family Law
Perhaps one of the most up and coming areas of law for international students is that of family law and divorce law. With a rise in the number of divorces in the United States and in many places around the world, family law practitioners are not having trouble finding clients and cases. Family law encompasses any type of case that involves a family. While divorce is the overwhelming majority, family law also deals with issues including child support, custody and abuse. While this area can be very lucrative, it is also stressful. Divorce mediation is often rough for both parties and may involve a lot of disagreements that prolong a case. There is often times little cooperation between parties. In addition, dealing with custody cases is often heartbreaking. This career requires great interpersonal skills to be able to reach out to a jury or judge, and also the ability to console a client or child.
Environmental Law
One of the fastest growing areas of law in the last few years has been environmental law. With many new federal environmental regulations and a world that is shifting to environmental protection and renewable energy, environmental lawyers have no difficulty finding work. Most of these attorneys work as advisors with companies who are looking to go "green," providing insight and federal regulation requirements. Greenhouse gas and carbon emissions have added to the global warming argument, making the need for environmental law experts a necessity for many different types of organizations. Many environmental lawyers find their way to government work, where they represent the Environmental Protection Agency in several different areas: from sustainability to environmental legislation to law infractions (or the equivalent agency in their home country). While this career is looking good now, the future outlook for jobs in the legal field within this area are astounding, and it is classified by many as the fastest growing area of law. The number of lawyers and amount of work in this field will continue to grow for years to come.
These are just some of the many career opportunities available in the legal profession. International students considering careers in law should take the time to explore the numerous opportunities available. Students would be wise to find an area they really enjoy working in; this way their careers will be both successful and enjoyable.
Lawyer
Another College,The University of Windsor is an excellent choice for the future:
The University of Windsor is an excellent choice to apply to if you would like to become a lawyer.  Before applying for a Bachelor of Law, you must have at least two years of your undergraduate degree completed.  Did you know that you could be enrolled in any undergraduate degree and still be considered for law school admissions?  If you would like to enroll in law school, below is a list of criteria you will need to meet while completing your undergraduate degree.
University Program
Work experience
Community involvement
Personal accomplishments
Career objectives
Personal considerations
Law school admission test scores
Bachelor of Laws (LL.B)
The program leading to the degree of Bachelor of Laws (LL.B.) is a three year full-time program which allows graduates to pursue practice in many different disciplines including family law, immigration law and criminal justice.
J.D. /LL.B Program
The J.D. /LL.B. Program is exciting and innovative and the first of its kind in North America, offering many benefits to its students.  In the program, students gain exposure to different cultures, they develop relationships with colleagues from different countries, and they obtain a foundation of knowledge of two legal systems while enjoying the entertainment and cultural diversity of both Windsor, Ontario and Detroit, Michigan.  This law degree allows graduates to practice both in the US and Canada.
Integrated M.B.A. /LL.B. Program
This program is designed to enable students to obtain both a Master of Business Administration (M.B.A.) and a Bachelor of Laws (LL.B.) within four years, instead of five.  Successful applicants will pursue first-year studies separately in the Odette School of Business and the Faculty of Law.  Years III and IV of the integrated program will involve work in both Faculties.  This law degree allows graduates to work in a corporate setting with exceptional knowledge of both the world of law and that of business.
The admission Committee evaluates applicants for first year on a continuous basis as the files are complete.
All files must contain:
OUAC/OLSAS application
University of Windsor Personal Profile
All official transcripts
Current official LSAT score report, LSA scores written in the previous 6 years
Two (2) letters of reference (one academic and one non-academic)
Financial aid (optional)
J.D./LL.B. application (if applicable)

How long does it take to study law in America?

Law school programs are typically three years. Unlike a student's undergraduate degree, law school does not allow a student to choose their own pace. Law students are required by most law schools to complete the law program in three years.

What college has the best law program?

Best Law Schools

| Rank | School name | Employed at graduation2 |
| --- | --- | --- |
| #1 Overall Score: Overall Score: 100 out of 100. | Yale University New Haven, CT | Locked |
| #2Tie Overall Score: Overall Score: 97 out of 100. | Harvard University Cambridge, MA | Locked |
| #2Tie Overall Score: Overall Score: 97 out of 100. | Stanford University Stanford, CA | Locked |
How do you get a law degree?
How to Become a Lawyer
Complete a Bachelor's Degree Program. A bachelor's degree is the minimum educational requirement for admission to law school. …
Pass the Law School Admission Test. …
Identify Law Schools and Complete Applications. …
Earn a Juris Doctor Degree. …
Pass the Bar Examination. …
Advance Your Career.
How long does it take to become a lawyer?
A:It can take 7-8 years to become a lawyer. After obtaining a four year bachelors degree you can enroll in a law school that will take 3-4 years. In order to practice law one has to clear the bar exam and get license in their state.
How much does it cost to go to law school?
For the top 10 law schools, the price is more than $43,000 a year. Far less prestigious private law schools charge prices that aren't much less. According to the American Bar Association, the average private law school cost $34,300 a year in 2008 and for public schools the cost is more than $16,800 annually.
Be a lawyer in your future, make your life better.
Online Colleges
A college degree is the best way to advance your career and increase your earning potential, but geography, family, or work obligations can make traditional college degree programs feel unattainable. Thanks to technology, however, it's possible for you to earn a college degree while you work full-time or take care of your family, and more people are opting in to online colleges and universities than ever before. In fact, online degree programs have outpaced traditional degree programs in terms of growth in the last decade.,70% of academic leaders say that online colleges  learning is now a fundamental part of their postsecondary institution's long-term growth strategy. In other words, online colleges programs from accredited online colleges and universities now offer the academic quality and the flexibility professionals need.
70% OF ACADEMIC LEADERS SAY THAT ONLINE COLLEGES  LEARNING IS NOW A FUNDAMENTAL PART OF THEIR LONG-TERM GROWTH STRATEGY.
There have never been more or better choices when it comes to online associate degrees, online colleges &bachelor's degrees, and online master's degrees.
What are the Best Online Colleges?
It's more important than ever to pick the right online degree program. That's why ,we've reviewed thousands of accredited online colleges and universities to help you find the best online degree program for you. The right online college for you will work with your budget, your schedule, and your learning style to make your goals a reality. Our ranking of the 50 best online colleges and universities gives you a place to begin your search for an online degree program that meets your needs.
Accredited Online Bachelor's Degree Programs:
University Of Central Florida:
Founded in 1963, this Orlando-based university is the largest postsecondary institution in the United States by overall enrollment,UCF currently serves more than 63,000 students, many of whom are enrolled in online courses and degree programs through the school's robust , so it's the right decision for online colleges. All online courses at UCF are led by the same professors and faculty members that teach the same subjects on campus.
These include Bachelor of Arts degrees in core subjects like history, English and political science, as well as niche fields like communication and conflict and Latin American studies. A BSN program is also offered for prospective nurses. In addition to full degrees, online undergrads can also choose from 29 minors in five academic areas: arts and humanities; education and human performance; health and public affairs; hospitality management; and sciences. All of these options are available as '2+2 baccalaureate completion' programs for students who have completed some college in the past without earning a four-year degree. As an extra perk, UCF Online students are not charged administrative fees for resources exclusively used by brick-and-mortar students.
Master of Arts (M.A.) options include degrees in applied learning and instruction, educational leadership and English-technical communication. Alternatively, online students at UCF can earn Master of Science (M.S.) degrees in fields like criminal justice and digital forensics. UCF also offers web-based master's degrees in seven specialized engineering fields, a dual public administration and criminal justice master's, and an MSN option for nurses. Some UCF Online master's programs are 30 to 35 credits in length, and may be completed in as little as one year of full-time enrollment.
Arizon State University:

With nearly 52.000 students  during the 2015-16 academic year, ASU is currently the sixth largest university in the U.S. by total enrollment. The Tempe institution also took first place in the 2016 'Most Innovative National Universities' ranking published by U.S. News & World Report. This recognition is largely due to ASU's groundbreaking distance learning program; currently the university offers more than 100 fully online colleges & degree programs.

Undergraduate online students can choose from 63 different bachelor's degree programs. These include 28 B.A. and 26 B.S. degrees, as well as applied science bachelor's degrees in health sciences, Internet and web development and operations management. A total of 22 online minors are available, as well; these include niche fields such as family and human development, global health and sustainability. ASU Online also features 'exploratory' undergraduate degrees in four areas: health and life sciences; humanities, fine arts and design; math, physical sciences, engineering and technology; and social and behavioral sciences. These programs are geared toward students who have an interest in certain academic areas but have not yet chosen a major. In 2015, ASU Online announced a new partnership with EdX titled the 'Global Freshmen Academy. This program is open to all incoming freshmen; candidates do not need to formally apply for enrollment in GFA, and will only asked to pay for courses that they complete with a passing grade.
University of Minnesota-Twin Cities
Northeastern University Global Network is the name given to the school's collective satellite campuses and worldwide research partnerships. The online degrees/certificates themselves are offered through Northeastern University.Established in 1898, this institution of nearly 25,000 students functions as a private research university. In addition to four Boston-area campuses, the university's 'Global Network  extends to satellite campuses in Charlotte, Seattle, Silicon Valley and Toronto. Northeastern also holds partnerships with education and research facilities in more than 150 countries.
Northeastern, it's the right choice if you are thinking about online colleges.Northeastern currently  offers 10 online bachelor's degree for distance learners. Three management-related bachelor's degrees are offered — general management, finance and accounting management and health management — as well as a leadership degree. Other undergraduate degrees are available in human services, information technology, liberal studies, political science, professional communication and psychology. All of Northeastern's online bachelor's degree programs are 120 credits in length, and designed to be completed with four years of full-time enrollment or seven years of part-time enrollment. Each degree follows a comprehensive curriculum consisting of one-credit labs and three-credit foundational, major-related and professional elective courses. The psychology degree program culminates in a senior research seminar. Most of the remaining programs culminate in a final project; human services majors must also complete an on-site practicum course, where they will receive supervised training from experienced professionals at a working human services facility. As of Fall 2016, all bachelor's programs at Northeastern follow a semester-based schedule.
Colorado State University-Global Campus
Created by the Colorado State University System Board of Governors in 2007, this institution was the first and only 100% online state university in the country. The online courses offered through CSU's Global Campus are led by professors who teach the same subjects in the university's classrooms. Using the Canvas learning platform, web-based courses may contain a mix of audio, video and text-based components, as well as proctored and unproctored exams.A total of 13 bachelor's degree  are offered to CSU – Global Campus undergrads in an exclusively online format. Students seeking a B.S. degree can choose from five fields: agricultural business, fire and emergency services administration; horticulture; human development and family studies; and psychology. B.A. degrees in anthropology, economics and interdisciplinary liberal arts are also available online. All of CSU's online bachelor's programs run 120 credits in length, and are meant to be completed within four years of full-time study. In addition to traditional courses, some degree programs carry additional requirements.

At the graduate level, a total of 11 online master's degree are offered in different academic fields. The engineering master's field is particularly robust, with degree pathways available in seven specialized subjects. Six other disciplines feature multiple online master's options: agriculture; arts leadership and music; computer science and technology; higher education and student affairs; human resources and organizational development; and natural resource management. Additional online master's programs at CSU include degrees in adult education, business administration, dietetics, social work and tourism. Most of CSU's online master's tracks consist of 30 to 40 required credit hours, and can be completed within one to two years.
Accredited online colleges are an exciting opportunity for students balancing their busy lives and educational needs. Many of the best online colleges& universities offer exciting, engaging, and flexible opportunities for degree completion.Online Colleges Choice's easy-to-digest data pages will help you make an informed decision quickly so that you can find the best accredited online colleges that fit your needs.
The need for accredited online colleges & universities has grown exponentially. Even when institutional enrollment numbers decline, accredited online university programs steadily increase, which makes selecting from the best online colleges an important task. The best online colleges  are adapting to the evolving digital learning world.1 With 90% of students using smartphones and tablets, regionally accredited online colleges are making device-based learning a priority. Part-time students above age 25, people returning to school after a long absence, and people with families, full-time jobs, or other adult responsibilities are all regarded as non-traditional students.2 Many of these students are looking for a flexible, quality education in the form of the best online universities.
After examining information concerning accreditation, graduation rates, student debt numbers, job placement records, and other metrics that indicate quality online education, consider these important issues when choosing from the best online colleges and universities:
Be sure the schools you're considering have recognized regional and national accreditation and that they've been recognized as quality schools by legitimate authorities. Organizations like the Council for Higher Education Accreditation and the American Association of State Colleges and Universities are two such organizations. Students can also check with the U.S. Department of Education for information about accreditation.
Know that the online degree you're planning to pursue provides assistance from the school's learning support center or another third-party learning assistance organization of similar stature. Transitioning into online learning environments can be tough—not even weighing the challenges of classes—and it's important that your new school offers you academic and technical support as part of your tuition.

4

Often, online classes are less expensive than face-to-face classes, but they aren't inexpensive and are only sometimes less costly than traditional degrees. Digital classrooms have a host of costs about which students rarely think. Technology fees and the like can surprise students if they aren't factored into fees per course or credit hour.
More Online Colleges:
1.WESTERN KENTUCKY UNIVERSITY:
Western Kentucky University is ranked as first among the best online colleges. Its online portal was established in 1998 and currently offers 59 degrees at the undergraduate and graduate level to over 2,000 students. It is accredited by the Southern Association of Colleges and Schools Commission on Colleges.
Unlike other accredited online colleges, WKU means what it says when a degree is marked as being available online. Courses with this marking are completed wholly online, including exams and presentations, with no requirement for a student to ever step foot on campus. This is great news for out-of-state students and working professionals who cannot afford to visit the school.
WKU also offers a flexible online education that is powered through an online learning management system called Blackboard, which is routinely used by online colleges and universities. This is a virtual classroom that provides the student with everything from access to student services to assignments and a course syllabus, all in one location. Students can take the courses at their leisure and are paired with a student advisor that keeps them on track to graduate on time.
Top Degrees Offered:
•   Bachelor of Criminology
•   Bachelor of Health Care Administration
•   RN to BSN
•   Master of Organizational Leadership
•   Master of Criminal Justice
PENNSYLVANIA STATE UNIVERSITY WORLD CAMPUS
Pennsylvania State University has been named one of the country's best online colleges since it founded its internet portal back in 2000. The school currently serves over 4,000 students across 82 degrees at the undergraduate and graduate level. It is accredited by the Middle States Association of Colleges and Schools.
Penn State World Campus one of the world's top accredited online colleges with a focus on STEM and humanities degrees at all levels of education. Through this robust and fully supported online school, students will find a standard of excellence that is hard to beat on a traditional campus. Online education, students will find nearly all of the online degree programs have no on-campus visits required—not even proctored exams.
As with many regionally accredited online colleges, Penn State World Campus offers its online courses asynchronously. This means students can attend class when and where they choose. The only deadline a student has at this school is the end of term, when all assignments and final examinations are due in order to complete the course.
Top Degrees offered:
Bachelor in Accounting
Bachelor in Biobehavioral Health
Bachelor in Health Policy and Administration
Master of Electrical Engineering
Master of Data Analytics
EMBRY-RIDDLE AERONAUTICAL UNIVERSITY – WORLDWIDE
Embry-Riddle Aeronautical University has been considered to be the home of one of the best online colleges in the country for over 20 years. Its online portal has been in existence since 1993 and has a current online student body of over 13,000 students that are working towards 31 degrees and the undergraduate, graduate, and postgraduate levels. It is accredited by the Southern Association of Colleges and Schools Commission on Colleges.
Embry-Riddle is unique among accredited online colleges, in that it has a focus on aeronautics and engineering degrees. These degrees can be difficult to find in an online format, but the school has pioneered innovative teaching platforms to make it a reality. This is why this school is favored by the aeronautics industry and continuously graduates working professionals in that sector to move into leadership roles.
Along with the focus on aeronautics, Embry-Riddle joins other regionally accredited online colleges in providing a world-class curriculum that is taught by industry professionals with an average of five years work experience in the field. These instructors can then lead online courses and projects through the perspective of potential employers, ensuring that students understand the industry inside and out before graduation.
Top Degrees offered:
Bachelor of Homeland Security
Bachelor of Aviation Security
Master of Aeronautics
Master of Systems Engineering
D. in Aviation
THE UNIVERSITY OF ILLINOIS AT CHICAGO
The University of Illinois—Chicago is considered to be among the best online colleges  in the country and is currently ranked in the top ten best schools to get a bachelor's degree online by U.S. News and World Report. The online portal was established in 2007 and offers 45 degrees at the undergraduate, graduate and postgraduate levels. It is accredited by the Higher Learning Commission of the North Central Association of Colleges and School.UIC is unique from many accredited online universities in that the school contributes to an online consortium of schools from the University of Illinois System. This allows students who are already enrolled in courses within the consortium to take online courses at other schools, provided that the courses meet the requirements for their degree.
Because UIC has partnered with other universities in Illinois, the virtual school is a comprehensive and well-supported institution. Students from other regionally accredited online colleges will find it easy to transfer into the school and continue with their education with little to no interruption. And along with a faculty that is well trained in the art of online instruction, students are treated to a world-class education that can be found at their fingertips.
Top Degrees offered:
Bachelor of Business Administration
RN to BSN
Master of Engineering
Master in Public Health Informatics
Doctor of Public Health (DrPH in Leadership)
ARIZONA STATE UNIVERSITY
Arizona State University is well known for being one of the best online colleges in the country and is world-renown both for its comprehensive listing of online degrees and for its student-friendly virtual college setting. The school, which confers 101 degrees at the undergraduate and graduate levels, currently holds an online student body of well over 10,000 students. The school is accredited by the Southern Association of Colleges and Schools Commission on Colleges.
ASU provides the gold standard of education for the country's accredited online colleges. Rather than providing degree programs that are one-size-fits-all, the school choose to offer students the ability to customize their programs to fit their career objectives and needs. Students can transfer in credits, use work experience as credits and even test out of certain subjects should they meet the requirements to do so.
And along with personalized degree programs, ASU, along with other regionally accredited online colleges, offers state-of-the-art virtual classrooms and experiences. Students can talk and chat with classmates and instructors using audio and visual communication platforms, participate in lab simulations and even turn in ePortfolios for their coursework. It's no wonder why ASU is one of the most preferred online destinations for both working students and career professionals.
CUNY SCHOOL OF PROFESSIONAL STUDIES
The CUNY School of Professional Studies, known as CUNY SPS, is home to one of the best online colleges in the state of New York. With an online student body of over 1,200 students, the school offers 12 exceptional degrees, all 100 percent online, at the undergraduate and graduate levels. This school is accredited by the Middle States Commission on Higher Education.CUNY SPS was one of the first accredited online colleges in the state and has been a destination for working professionals who work in the psychology, business and healthcare sectors. This is because the school offers an online pathway from bachelor's to doctorates, ensuring that students who are already comfortable at CUNY SPS can continue their education with no need to reapply. In fact, this school has one of the highest return rates for alumni pursuing higher degrees.Unlike other regionally accredited online colleges, however, CUNY SPS does not differentiate their tuition rates based on residency. This means that all U.S. students pay that same low tuition rate for their online degree, regardless of where they live. And because the tuition rate is so low, CUNY SPS has earned the reputation of being one of the top ten most affordable online schools in the nation.
Pace University has been named one of the best online colleges in the country by U.S. News And World Report and has a reputation for excellence in the academic arena. It has been offering online programs since 2004 and currently has 350 students enrolled in its 20 online degree programs at the undergraduate, graduate, and postgraduate levels. It is accredited by the Middle State Association of Colleges and Secondary Schools.
Pace joins other accredited online universities in offering its online courses through Blackboard, the world's most popular learning management system. This system is a virtual classroom, providing students with access to their instructors, other classmates, the syllabus, assignments, resource papers, and exams. It is a comprehensive tool for an education online that is fully utilized by Pace for all online degrees.
Pace online degrees are held to the same standards as all degrees conferred by the school. Like other regionally accredited online colleges, the school recommends students spend as much time on their coursework as possible to stay on track. But because students can access their coursework whenever and wherever they choose, studying can be done on their time, easing the stress of going back to school while working.
CITY UNIVERSITY OF SEATTLE
City University of Seattle, known as CityU, is one of the best online colleges for working professionals in the healthcare and business sectors. There are over 2,500 students currently enrolled across the 68 online degrees the school offers at the undergraduate and graduate levels. The school is accredited by the Northwest Commission on Colleges and Universities.
CityU is counted among the few accredited online colleges that are a private, nonprofit organization. The school is dedicated to providing students with a great education and so have endeavored to become one of the leading regionally accredited online colleges to provide financial assistance for students who require it. Scholarships are also available.
The school also gives students a unique opportunity to earn credit for work experience through its performance-based education mode. This program gives students the chance to proceed to their degree quickly while focusing on the subjects they have not mastered yet. Students interested in the performance-based mode of learning will need to talk with advisers before applying for the program of their choice.
CREIGHTON UNIVERSITY
Recently rated as one of the best online colleges for psychology and healthcare students, Creighton University is a destination school for working professionals in need of flexible education. The school offers 26 online bachelor's and master's degrees through its online portal, which was founded in 2008. It is accredited by the Higher Learning Commission North Central Association of Colleges and Schools.
Creighton University's faculty has a place of pride among regionally accredited online colleges. The instructors here are not only world-renown for their own research and work accomplishments; they are also well-respected for their commitment to training in online teaching methods. This has led them to be highly praised by past alumni and current students for their dedication to their students and the rigorous coursework opportunities they provide.
Creighton, like many other accredited online colleges , offers working students with support services throughout the entirety of their education. From library services to online tutoring, students will find just about any kind of help they need through the online portal. This is the perfect online home for students who are committed to furthering their education.
CENTRAL MICHIGAN UNIVERSITY
Central Michigan University has been named one of the best online colleges  for working professionals who are interested in advancing their business, education or technology careers. The school's Global Campus, where the online school is housed, confers 16 different degrees at all levels of education. It is accredited by the North Central Association of Colleges and Schools and the Higher Learning Commission.
CMU offers something most other regionally accredited online colleges do not, and that is specializations within their degrees.Most degrees, both at the undergraduate and graduate level, have at least one specialization. This ensures that students graduate from the school with the knowledge relevant to their current goals and that will aide them in finding more fulfilling work.
The school also puts an emphasis on creating a supportive and engaging online environment for their students. This school has been a leader among accredited online colleges in providing peer tutoring, creating innovative writing and math centers as well as creating a comprehensive online learning resource center. All of these student services are at any online student's disposal and can make the difference between not graduating at all or graduating early.
SAVANNAH COLLEGE OF ART AND DESIGN
The Savannah College of Art and Design has gained a reputation for being among the best online colleges for art and design students. The school confers 27 degrees, ranging from painting to writing, at the undergraduate and graduate levels. It is accredited by the Southern Association of Colleges and Schools Commission on Colleges.
SCAD is singular amongst accredited online colleges in that this is a creative school. All degrees focus on design and art in some respect and SCAD is one of the first art schools to provide a virtual education for their students. Founded in 2003, the online school currently has a student body of just over 750 students.
Creatives who study at SCAD are treated to one of the top online colleges and universities that is nationally recogi as having Excellence in Institution-Wide Online Teaching and Learning from the Online Learning Consortium, a recognition that is highly sought by other online colleges and universities. The school has retained that distinction by consistently providing their students with the latest technology software for their courses, all free of charge. This is further enhanced by the intimate setting created by instructors and leads to students having a full creative portfolio before they graduate.
Finding the  best Online Colleges for you .With 21 million online colleges and university students currently in the U.S., that means about one in three college students is taking at least one course entirely online!
Online colleges and universities differ widely in quality, with more and more campus-based schools competing for online students and offering online degrees. For this reason, rankings of online colleges and universities need to be regularly updated.